How to register and purchase the CNA Dental Professional Liability Risk Management Online Course on Coggno.com
1. Go to CNA's webshop (http://cnadentists.coggno.com/shop) on Coggno.com.
2. There are 5 courses available for you to choose
$150 = CNA Dental Professional Liability Risk Management Online Course


this is the full course, includes already the 4 modules

$40 = Module 1: Risk Management Essentials
$40 = Module 2: Treatment Issues
$40 = Module 3: Documentation and Compliance
$40 = Module 4: Managing Injuries and Adverse Events
3. Click Add to cart to buy the course.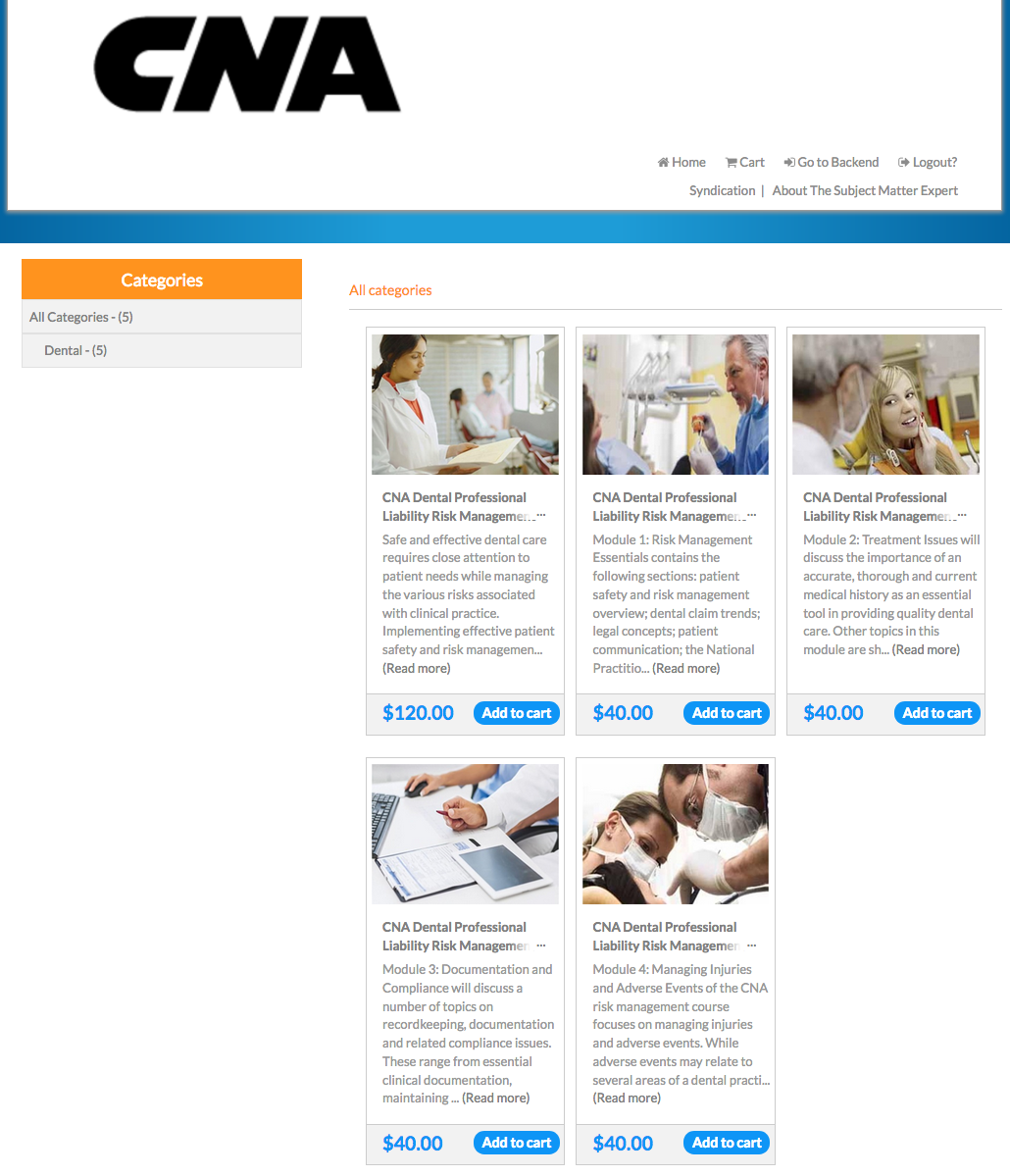 4. You will be redirected to the Check-out page. Click Proceed to Payment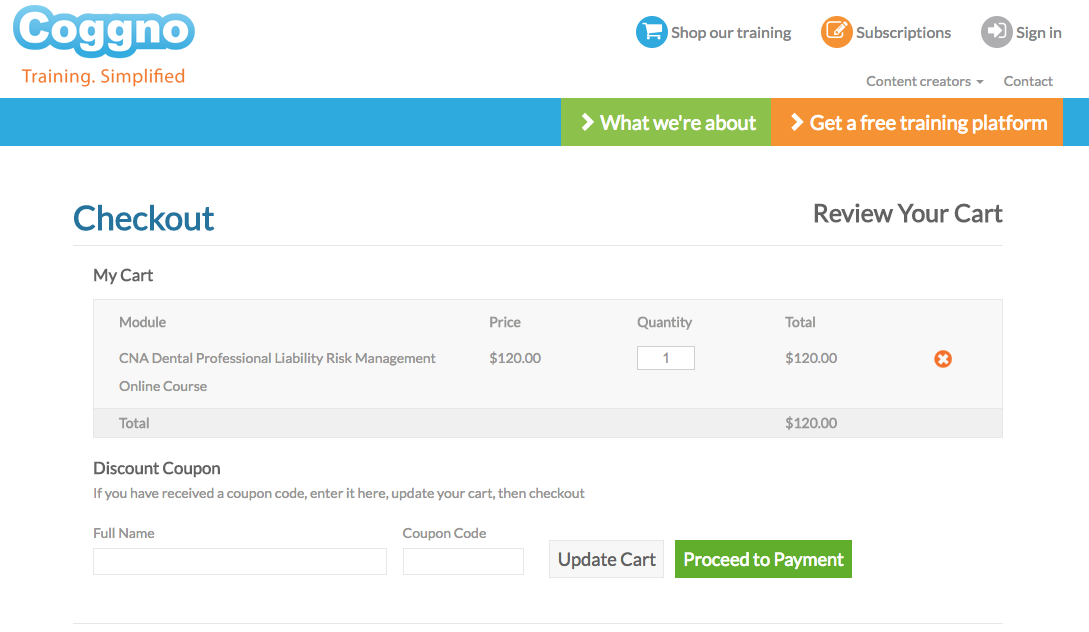 Creating your account on Coggno.com to access your course
5. You will be asked to create an account on Coggno.com for you to access the course, click Create a New Account.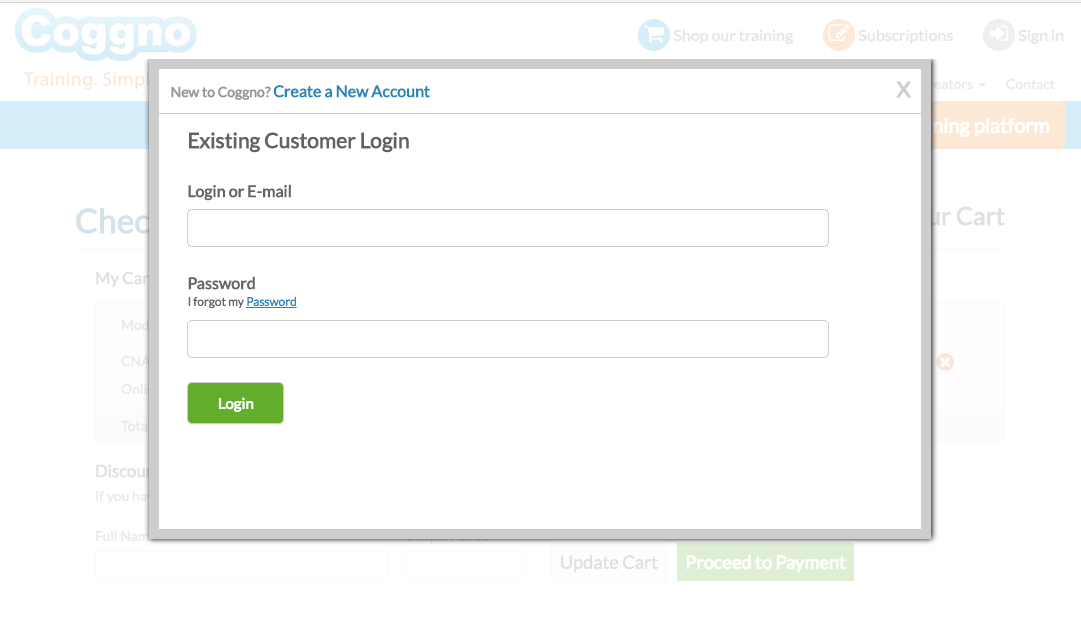 6. Enter your credentials (Name, Email Address, Username, and Password).
Note: The system requires unique usernames and email addresses. If you have entered a username that already exists in the system, please enter another one or add a digit to your preferred username.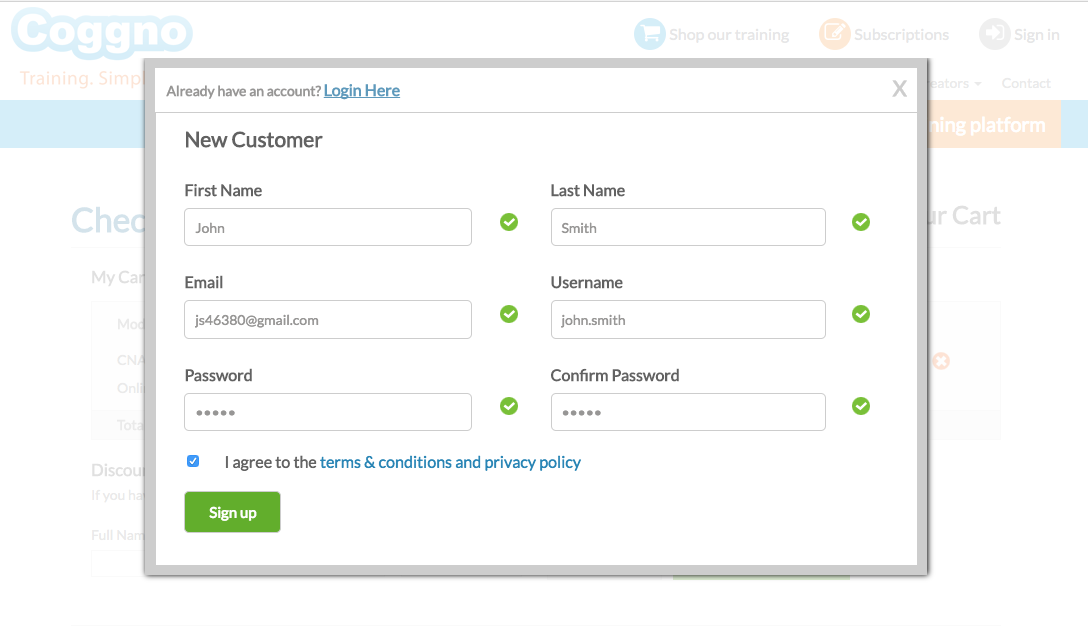 Checking out your course
7. You can pay using your Credit Card. Enter your credit card information and Click Place your order.
8. If you are paying by Paypal, click Pay using Paypal, press Continue to redirect you to your Paypal account.
9. Once you have confirmed your payment, you will redirected to the "Thank you" page confirming that your Order is complete. Click Continue.
Your dashboard
10. Your course is automatically distributed to your account on Coggno. Click the Play button to begin your course.
To log back in to your account
CNA Login page
3. On Coggno.com, click Sign In (top right)
4. Or go directly to https://cnadentists.coggno.com/lms_account/login
Completing your course and getting your certificate
5. The CNA Dental Professional Liability Risk Management Online Course includes 4 modules with a Preliminary Survey and Final Survey for you to complete. Once you have completed the course including the surveys, your certificate will automatically be generated.
Note that the Final survey will only appear once you have finished the 5 modules.
Final survey issue: sometimes, most learners forget to complete the last open ended questions that are required.
Your certificate is not generated unless you completely answered all the required questions under the Final survey.
Your certificate of completion is automatically emailed to you after you complete the course and survey. You can also download a copy directly from your account. Look for the gold star in the upper right corner of the screen and click 'My Certificates', then download your copy by clicking on Download.